About AGSTECH Co., Ltd.
www.agstech.com.tw
sales@agstech.com.tw
AGStech is established in Taiwan, Asia and is the specialized in power & electronic products ODM & OEM.
Our products are Power - UPS, Inverter, Battery Charger, AVR, Power Saving
Computer Strip & Contactless Charger.
We have strong research and development team with mechanical team for mould design, mould manufacture, plastic injection parts & metal parts design manufacture & CPU program design, circuit diagram design… for complete products assembly..
Our production rules are best quality and technology leading. We get the trust and approval from customers for a long-term relations.
Year

1974

Leading in AC/DC & AC/AC adapter, DC/DC converter & battery charger.

1994

Established mechanical design company with mold & injection, based in Taiwan.

1995

ODM Barcode machine

1999

ODM "SINE WAVE LINE INTERACTIVE UPS & INVERTER"

2001

Declaration of Sine wave Long-run & Rack mount series.

2008

Declaration of pure sine wave Home Inverter.

2008

Established subsidiary company, based in Taiwan.

2008

Mechanical design & make mold - Marine GPS

2009

ODM animal foxlights protect device design and manufacture

2010

Mechanical design & make mold - Agricultural Industrial Computer

2010

ODM "Electronic Nasal Aspirator" mechanical design with PCBA

2010

Released the 10KVA / 12KVA models with Rack / Tower convertible feature.

2011

Mechanical design & make mold of weight loss bed, customized.

2011

Induction charger ODM design for GPS device

2012

Released High efficiency On-line UPS with efficiency > 93% & Common Neutral

2012

Mechanical design with plastic parts - GPS IP67

2012

Mechanical design & make mold - Blood Glucose machine

2013

USB Computer power strip ODM design

2014

Special DC UPS

2015

Design and Manufacture for Solar vs USB charging lights

2016

Mechanical Eyeball PhoneDock / Fire & Sircuity

2017

Voice Controller ODM (PCBA with Mechanical design)

◆ Email: sales@agstech.com.tw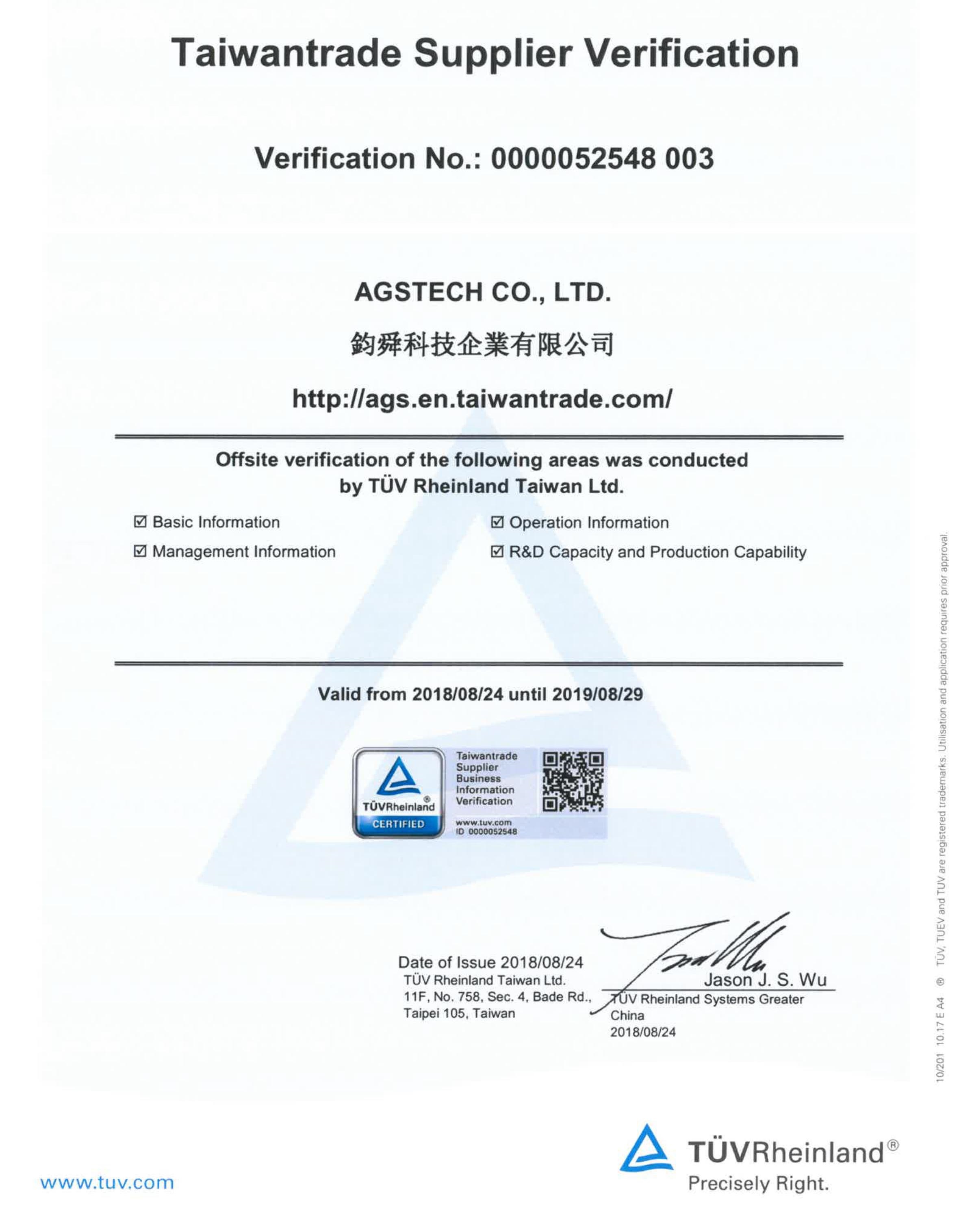 造
挤压模制造
多滑块落料模
其他模具
级进模制造
冲压模制造
钢尺模制造
吹塑模具制造
压塑制造
注塑模具制造
滚塑模制造
结构泡沫成型模具
热成型模具制造
传递模具制造
塑胶成型
电子元件装配
模样制造
反应铸模制造
压塑成型
浸渍成型
注塑成型
层叠成型
铸模成型
挤拉成型
滚塑成型
结构泡沫成型
热成型
传递模塑成型
层叠模制造
 

Website: www.agstech.com.tw Email: sales@agstech.com.tw TEL: 886-939-381389 Contact: Ms. Glinda Lin skype: glinda.tw MSN: glinda.tw@hotmail.com *** Molding / Plastic molding/ Double Injection / Overmould *** --- www.jawbonetw.com Manufacture -- More than 20 years experience of molding design & manufacture. Form ID design, molding design, molding making, injection, complete products assembly. Email: glinda.lin@jawbone.com.tw ***Battery Charger*** Manufacture -- More than 20 years experience. Email: sales@agstech.com.tw *** Inverter ***

Taiwan Inverter marine inverter, telecom inverter Manufacture -- More than 20 years experience. Pure sine wave inverter, ODM professional, solar inverter Email: upsinverter.tw@gmail.com powerscan ups, powerscan inverter power inverter, dc to ac power , dc inverter power, ac inverter power, car power inverter, auto power inverter, 12v inverter voltage, charger inverter, inverter pure sine wave, inverter vector, car inverter, inverter rv, inverter pallet inverter *** Contactless Charging Solution *** ODM for contactless electronic products, contactless charging solution. Email: glinda.tw@gmail.com *** PowerScan UPS --- Uninterruptible Power Supply *** * Universal input UPS - SI-400U Manufacture -- More than 20 years experience. Focus on pure sine wave line interactive UPS, ODM professional, internal stand-by UPS Email: sales@agstech.com.tw CNC-Drehmaschine, CNC-Teile, CNC-Fräsen, CNC-Metall-Teile, CNC-Fahrradteile UPS, Wechselrichter, Umrichter Telecom, Rack-Wechselrichter, reiner Sinus-Wechselrichter Torno CNC, piezas CNC, fresado CNC, CNC de piezas de metal, piezas de bicicleta de CNC UPS, inversor, inversor de Telecom, para montaje en rack inversor, inversor de onda sinusoidal pura Tour CNC, CNC pièces, fraisage CNC, CNC des pièces métalliques, pièces de bicyclette CNC UPS, Onduleur, onduleur Telecom, rack onduleur, onduleur sinusoïdal pur CNC
旋盤、の

CNC

部品の

CNC

フライス加工、金属部品の

CNC

、自転車部品の

CNC UPS

は、インバータ、インバータテレコム、ラックマウント、純粋な正弦波インバータインバータdisk UPS
1000W inverter, 1000W UPS
Dual Input UPS, 1000VA / 600W, 1500VA / 900W, 2200VA / 1350W
Pure sine wave line interactive, true sine wave, on line UPS, 1KW UPS, 600VA UPS, 1500VA UPS, 5K UPS, off line UPS, made in Taiwan UPS, PSW inverter, true sine wave INVERTER, 1KVA inverter, 1000W Inverter, 1u UPS, disk UPS, internal UPS, 8KVA UPS, 12KVA UPS, DC UPS, DC on LINE UPS, power bank, power supply, charger, power charger, AS-400 CARD, SNMP, computer UPSARD UPS Taiwan, ARD UPS
堅睦集團   明風集團  solar foxlights, solar lights, solar outdoor lights
iphone 6 iphone6 模具 iphone6 pl UPS
iphone6, 帝王別墅

AP-0100 AP-0500 AD-050 AD-100 AGS-050 AGS-100
Máy tính UPS
Hệ thống an ninh điện
Hệ thống điện Giám sát
Service Zone:S-E Asia, Japan & Korea, North America, Latin America, Europe, Oceania, Africa, Others