See Larger Image
Inverter DC to AC
CCTV Inverter DC12V to AC24V
Click here

CCTV inverter - DC12V to AC24V - IP67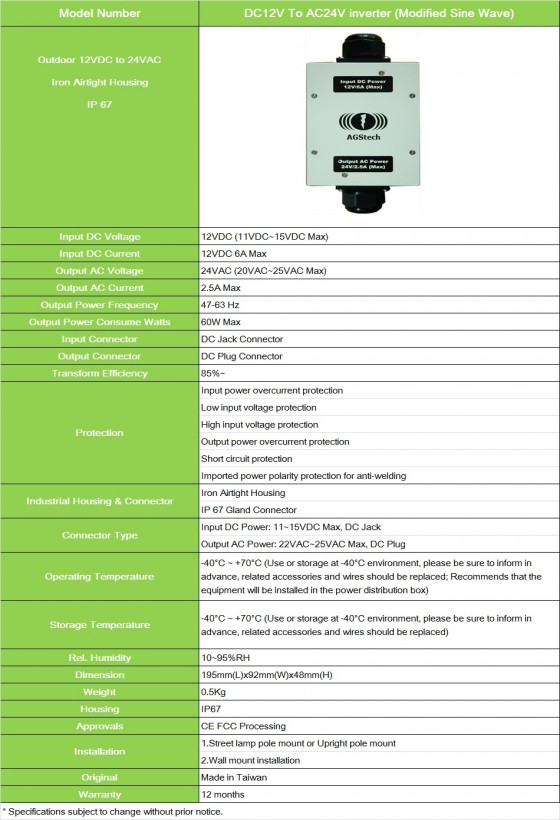 Inverter

 

■ Low Frequency Inverter

 

  

* Pure Sine Wave
   * Telecom Inverter
   * CCTV AC 24V Inverter


 

■ High Frequency Inverter

 

   

* Modified Sine Wave

 

   

* Pure Sine Wave

 

◆ Contact us:

sales@agstech.com.tw
Dual Input UPS, 1000VA / 600W, 1500VA / 900W, 2200VA / 1350W
Pure sine wave line interactive, true sine wave, on line UPS, 1KW UPS, 600VA UPS, 1500VA UPS, 5K UPS, off line UPS, made in Taiwan UPS, PSW inverter, true sine wave INVERTER, 1KVA inverter, 1000W Inverter, 1u UPS, disk UPS, internal UPS, 8KVA UPS, 12KVA UPS, DC UPS, DC on LINE UPS, power bank, power supply, charger, power charger, AS-400 CARD, S

DC-AC Sine Wave Inverters for CCTV and Security Systems
50VA Rugged, Industrial Quality Sine Wave Inverter for CCTV Systems
ABSOPULSE Electronics has recently released the CSI 50-24/24-FT, an industrial quality low voltage DC-AC inverter, specifically designed and optimized for powering CCTV systems.
The inverter utilizes field proven, microprocessor controlled high frequency PWM technology to convert the 24Vdc input to a 24Vac pure sine wave output. Regulation is better than ±3% from no load to full load. Efficiency is a minimum of 80% at full load at 24Vdc output. A 12Vdc, 36Vdc, 48Vdc or 125Vdc input version is available on request.
A purpose designed topology for this low input/output version streamlines the circuitry, resulting in higher MTBF at lower cost versus comparable 115Vac output units.
The input and output are filtered for low noise. The input meets the requirements for EN55022 Class B for conducted noise and radiated emissions. This ensures that the unit can be used in EMI sensitive environments, including residential areas, without any additional filtering.
The CSI 50-24/24-FT unit is cooled by natural convection. Heat generating components are also conduction cooled to the base plate. When installed on a heat-sinking surface, the +50°C operating temperature can be extended up to 70°C. Versions for -20°C or lower temperatures are also available.
The compact, light-weight inverter is housed in a robust aluminum chassis. Full ruggedizing and conformal coating are available for immunity to high levels of shock, vibration and moisture.
Electronic protection includes inrush current limiting, reverse polarity protection, input transient clamping, output current limiting and short-circuit protection. It meets EN/UL60950-1 and equivalent industrial standards.
ABSOPULSE Electronics is an original equipment manufacturer (OEM). We design and manufacture an extensive range of industrial and railway grade ac-output power conversion products in-house.
Sinusoidal output voltage

Application: CCTV and security systems

DC-input: 24Vdc (12Vdc, 36Vdc, 48Vdc or 125Vdc on request)

AC-output: 24Vac continuous at 50Hz

Line-load regulation: ±3% from no load to full load

EMI: EN55022 Class B

Cooling by natural convection

Full ruggedizing and conformal coating (optional)

0°C to +50°C operating temperature range at full spec.

Up to +70°C as well as -20°C or lower operating temp. available

Output-fail alarm, Form C (optional)

Minimum 80% efficiency at full load

Dimensions: 114 x 51 x 201 mm (4.5" x 2" x 7.9") W x H x D
NMP, computer UPS